I have my car back! Ripka's finally got it done yesterday, so now after two and a half weeks of being without it, I now have a car again! And the best part of it all is that it only cost $146 for the part and labor all together, which was less than I was expecting. Let me tell ya, you don't really realize how convenient it is to have a car until you go without one for awhile.
The fall IM softball season started up last week. In the first game we jumped out to a 10-3 lead, and then hung on to a 12-11 win. I went 2-for-3 in that game, with two "swinging bunt" singles that died about ten feet down the third base line, a fielder's choice line drive that the pitcher knocked down, and two runs scored.
In the second game we were behind 5-2 starting the 4th, scored two in the 4th (Frame fouled out behind third, but I tagged up to go home, drawing a wild throw which also brought in another run), and four in the 5th (I had an RBI double and a run), to sweat out the 8-5 win. I think I was also 2-for-3 with a groundout to short and two solid hits to left-center, with two runs and an RBI. In that game I also recorded the first out for us on defense off a single to short center. I was the right-fielder and came over to cut it off, and saw the runner trying to advance to 2nd. The middle infielders had also come out to the short outfield to try to catch the ball, so I managed to beat him to the bag and tag him out, right before taking a tumble. It's probably not everyday you see a 10-unassisted (with four outfielders in softball, I presume RF=10 and not 9 like it does in baseball) put-out on a runner advancing to 2nd base!
And then our third game was this Tuesday, and after falling being 3-0 after the top of the 1st, we finally had the offensive show we'd been waiting for, slugging our way to a solo, 2-run and 3-run home run in succession in the bottom half of the 1st, en route to a 19-7 four-inning mercy rule win. I didn't contribute much though, going 1-for-3 with a strikeout, foulout to the catcher and a single to left-center. So after these three games, Mid-Life Crisis is sporting a cool 3-0 record with two more games in the regular season. Looks like we're in good shape to make the playoffs as long as we keep playing smart defense and don't throw the ball away, because we've got a very good offense.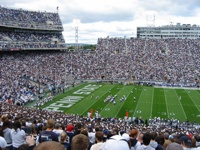 Hate Week 2007 (as Moyer calls it, haha) is here! Yes, that's right, Penn State's clash with Michigan is coming up this Saturday. Here's why Penn State fans are nervous about the game. Even though the Nittany Lions beat the Buffalo Bulls 45-24 last week (they led 31-3 after 3 quarters before putting their second string in) to push their record to 3-0, Penn State has made a habit this year of starting slow in every game (they trailed 3-0 to Buffalo after the 1st quarter). You can get away doing that against bad teams (Florida International, Notre Dame and Buffalo would all easily qualify this year), but against decent or good teams, that's playing with fire. So there's that. And that JoePa traditionally keeps the shackles on the offensive play-calling, even though this year we have amazing talent at wide receiver. And that the game is at Ann Arbor in the Big House, and our first road game of the year. And there's the fact that Penn State has lost their last eight games to Michigan (the 2002 and 2005 games essentially decided by the refs on the last drive, both times failing to notice that a Michigan receiver came down OUT OF BOUNDS on "catches" for key first downs that extended the game-winning drives for the Skunkbears).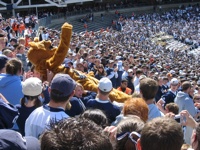 And then there's the fact that Michigan, who had two EMBARRASSING losses to start the year (34-32 to I-AA Appalachian State (hahahaha! that'll never get old!) and 39-7 to Oregon, both at home), finally won a game last week, 38-0 over Notre Dame. But Michigan fans should have no reason to feel cocky after that, since beating the Fighting Irish this year is about as meaningful as beating Temple (sorry Ben). Notre Dame is absolutely atrocious this year, with negative yards rushing and no offensive touchdowns after three games. Utterly. Pathetic. But I'll take it since I hate Notre Dame in football (perhaps even more than Michigan, though that's a tough proposition)! 🙂 At any rate, if there's any year for Penn State to break their hex against Meeee-cheat-'em, it's this year. The Wolverines (Skunkbears) are still talented and dangerous, but Penn State has the better team on paper. And should the Nittany Lions win, not only would Happy Valley be ecstatic on Saturday evening, but Penn State would have a very good chance to run the table and go 12-0 in the regular season (our games against Ohio $tate and Wisconsin, the other two top Big (11) Ten contenders, are both at home at Beaver Stadium). Man, I hope we win… I'm definitely not wearing any yellow this week, that's for sure! Let's Go State!