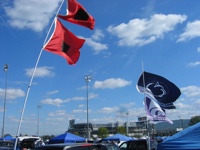 What a beautiful autumn weekend! The weather has been absolutely wonderful here in Happy Valley the last few days. It was a bit crisp in the early going on Saturday morning when we were setting up our tailgate with a healthy breeze, but the ample sunshine warmed things up comfortably. It was breezy enough to give our hurricane flags/pole a good test, too! We thought it would've been humorous if the hurricane flags would've been blown down, except for the fact that the pole cost a hundred bucks.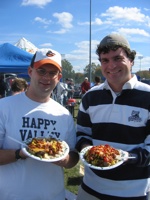 The tailgate food du jour that Shawn prepared this time was the garbage plate. For those of you not familiar with the garbage plate, a "delicacy" that originated in Rochester, New York, here's what it is. First off, you start with a base of sides, choosing two from the set of home fries, french fries, macaroni salad and baked beans, and fill your plate up with those. Second, you dump on a bunch of somewhat spicy ground beef and onion chili (almost like a sloppy joe consistency). Third, you put two hamburgers, cheeseburgers, hot dogs, or any combination thereof on top. Fourth, you top it off with however much ketchup, mustard, onions and Frank's hot sauce you want. Finally, you mix it all together, and you have the culinary masterpiece known as the garbage plate. It's a lot of food, and doesn't exactly look all that appetizing, but it's actually pretty good — as long as you don't want to have one more than a couple times a year (it might take your body that long to get over the shock of the garbage plate, haha!). 😉 I think Shawn's probably gonna have jambalaya on tap for the Ohio State tailgate on Oct 27th, mmmmmm…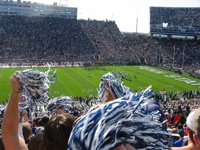 As for the Penn State-Wisconsin game, the Nittany Lions routed the Badgers 38-7. The tone was set early, with Penn State forcing and recovering a Wisconsin fumble on the first play from scrimmage, and the Lions capitalizing with a touchdown three plays later to take an early 7-0 lead. The Badgers narrowed it to 10-7 by the end of the 1st quarter, but after that it was all Penn State, stretching the lead to 24-7 at halftime and 31-7 after three quarters. The defense was stellar, shutting down Wisconsin's powerful running game. PSU's running game was dominating. Anthony Morelli played the best game of his career at QB for PSU, throwing the ball effectively downfield, accurately on the short swing passes, and not throwing any interceptions. Now if he can just play like that consistently (especially on the road), Penn State's gonna be tough to stop. In short, it was a fun game to be at, and probably the most complete game I've seen the Nittany Lions play on both sides of the ball since their 44-14 dismantling of Minnesota in 2005. Next up is a dangerous trap game on the road at Indiana. If we can get by the Hoosiers and their spread offense, Penn State will really come into the big showdown with Ohio State, the #1 team in the country, with a lot of momentum!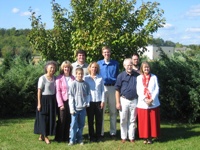 We had a special visitor at church on Sunday morning — Mrs. Lee from Slidell, Louisiana! She was the woman whose roof we fixed on our Hurricane Katrina relief mission back in March (read about it here, in Part 1 and Part 2 of my original post about that trip). I found out about her planned visit last weekend, but was told to keep quiet about it so that Max (the 12-year old kid that came down with us) could be totally surprised when he saw Mrs. Lee at church. 🙂 She spoke for a few minutes during the second service, and I thought it was a really amazing testimony and encouragement to everyone from our church who had gone down on Katrina trips in the past, as well as anyone who's thinking about going down there in the future. It was touching to hear her tell the whole church that she had kind of drifted away from God, but was brought back to Him when we came, and say that while Katrina brought much destruction, without it she would never have been able to be ministered to by us (and I would add that none of us would've been able to be ministered to by her!). After the service we had a Katrina team reunion lunch with Mrs. Lee and those of us that hadn't moved away (Katie to college in Rochester, NY, Mike to a nursing job in Mansfield, Ohio, and Matt to seminary in Philadelphia). Mrs. Lee told us that she's doing well, that all the big things (like her roof) on her house are finished, and that she made it out of the trailer and back into her house by her target date of June 1st, so that's great news! It was just great to see her again, we were all very glad she was able to make the trip up to Pennsylvania to visit us. She even gave us all little gifts; for me it was a couple containers of very tasty creole seasoning, one of which she reminded me that I had forgotten down there after she told me to take it when we left. 🙂 If any of us ever go down to New Orleans again, we'll definitely have a place to stay!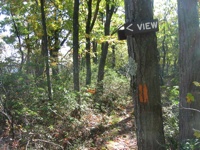 Right after the lunch with Mrs Lee, it was time to head out to Rothrock State Forest with some people from PSCG for a hike. I went with John, Daniel, Shane, Tracy, Pei-Jou and one of her friends, and we started at Little Flat Tower, and hiked along the ridge from there on the Mid-State Trail. There were a couple of nice vistas along the way, and a lot of really pretty, rocky forest.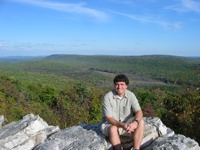 I had hoped the fall foliage would be a bit closer to peak, but the colors are a bit slower in coming than they were the last couple years, so there wasn't much color out in the woods at all, really. It was still quite pretty, though. About two and a half miles down the Mid-State Trail we came to a really sweet overlook of Bear Meadows, where we could look way down the axis of the valley, all the way to the town of Centre Hall in the distance. Very cool. It was good to take a break from everything and just go enjoy nature for five miles and three hours!