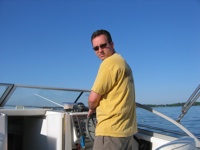 The last couple weeks have been a hard, emotional and exhausting time for me. As many of you already know, my older brother Aaron was killed in a jet ski accident back on Saturday the 30th of August. I got the call from my oldest brother Nathan that night, and I knew right away that something was wrong. It's never good to hear the words, "Are you sitting down?" I was shocked and stunned by the news, and just slumped down and started crying after Nathan's call. We didn't have confirmation at the time that it was Aaron, but everything indicated it was. Half an hour later we did have confirmation. Aaron, who had just turned 36 in July, leaves behind Eve, his wife of fourteen years, and their two children, Gabriella (age 7) and Mathias (age 5).

We still don't know all the details of what happened, because the police have not yet finished reconstructing the accident, to my knowledge. Aaron and some of his friends and neighbors had been enjoying a fantastic day down at Lake Minnetonka with all the kids. Everyone was having a blast. Aaron even told his neighbor Jim, "Fifteen years from now, Matty (Aaron's 5-year old son Mathias) will look back on this as the best day of his life. He's spent all day playing in the water, inches from a bunch of girls in swimsuits!" He was also quizzing Claudia, another woman who lives on his street, about how late you could be out on the lake on a jet ski. Claudia guessed half an hour before sunset, and Aaron corrected her that it was actually an hour before sunset. Not too much later, Aaron and his best friend and business partner Gary left on their jet skis to get some riding in before they had to come off the lake. It was a bit of a windy day, so the waves were a bit choppy, and we don't know exactly what happened, but around 6:30pm, somehow Gary lost control of his jet ski and it struck Aaron. We think he was killed pretty much instantly.

I obviously didn't get much sleep that Saturday night, as I was just numb and in shock for awhile, and then calling a few people. At church on Sunday morning, I still played piano and advertised the upcoming Elijah shows during both services, and basically held it together during the services. Before, between and after was another story, but there was a lot of support from people at church. After lunch with Kerrie, Tracy, Ashley, Trevor & Ash at Faccia Luna, I was about to call the airlines to look into what their bereavement rates were, since all the flights back to Minneapolis-Saint Paul were upwards of $1000 with 2+ connections (and usually through out-of-the-way places like Orlando or Dallas). But then Ash graciously volunteered to travel back with me (and then Kerrie & Emily and others volunteered to stay with Ash's wife Heather to help her with their two young girls while Ash was away), so I took him up on his offer and decided we'd drive back, since that'd be significantly cheaper, even though it'd take two days both ways (I was already way too exhausted even to consider pushing it and doing all 17 hrs in one day). Not having to sit on hold with the airlines enabled me to take a short, much-needed nap before PSCG Bible study that evening. Bible study was hard for me to get through, but I was grateful for all the love, support and prayers of my friends there. After we sang a few songs (though I couldn't manage to sing, so I just listened), I showed some pictures of Aaron on the projector and told some stories about him, and then everyone prayed for me, my family & Gary. I called and emailed some other people to tell them the news after that, but by then I was all cried out I think, at least for that night.
Ash & I set off for Wisconsin on Monday morning. It wasn't exactly how I'd planned to spend Labor Day, that's for sure. I spent quite a bit of time in the van on the phone, calling people to let them know the news, and getting called by other friends who had just heard. We got to Valparaiso in time for dinner with Alex, and spent the night there. That evening Alex showed us around the Valparaiso University campus, with the highlight definitely being a great tour of the beautiful and enormous Chapel of the Resurrection (which started by Alex sneaking us in through a back door to the basement, haha). We even were tasked by the custodian to shut off all the lights and close all the windows before we left, so we really got to know the largest nation's largest college campus chapel quite well. It was great to see Alex again, and being there that night was really a much-needed diversion from everything. It was a blessing to have a few hours to relax and take my mind off all the sadness.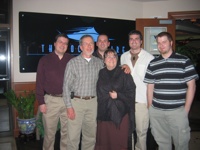 On Tuesday we finished the second half of the drive, and got to Cumberland a bit after 6pm, and spent the night with my parents. It was good to be home finally and spend time with them, mourning Aaron, and to start sorting through pictures and whatnot.
The visitation was on Wednesday afternoon at Mount Calvary Lutheran Church in Excelsior, Minnesota. Before we went down there I made a small, 50-photo slideshow of pictures with Aaron in them, set to "Everlasting God" by Chris Tomlin. It was just a small thing, but since I didn't have time to print off any of my photos to contribute to the memorabilia table, it was at least something I could do. So at the church I set up my computer on a table and set the slideshow to loop continuously.

My slideshow of photos with Aaron
Eve's brother Mike also made a computer slideshow of photos with Aaron. The visitation was, obviously, pretty hard and pretty emotional, seeing Aaron… When I saw Gary, I gave him a hug and told him that we all loved him, and that we didn't blame him for the accident. That's been my whole family's reaction to him. There were many, many people who came to the visitation too, some of whom I hadn't seen in years, so in addition to sharing memories and stories of Aaron, there was a fair amount of catching up with people. There were so many people, that while the visitation had been scheduled to go from 5-8pm, we were there till well after 9pm. It was good to see so many people again, friends and relatives, but it was completely draining as you might imagine.
One of the people who came to the visitation was someone named David, the guy who was the first passerby to jump in the water with Aaron right after the accident. As it turns out, David's a strong Christian as well. He just said he was clearly in the place and time that God wanted him there. He said he didn't see the accident happen, but got there a minute or so afterward. He strapped his life jacket on and jumped right in. He didn't feel a pulse, but said Aaron took one big breath. After he and/or the rescue personnel got Aaron to shore and started working on him, someone else announced that Aaron didn't have a pulse, and David asked Gary if he could pray, to which Gary said, "By all means, go ahead.
Aaron is a believer, and he saved me.
" (Gary became a Christian through Aaron's sharing of the Gospel a few years back.) David said he'll never forget those words… He said it was really humbling and an honor for him to have obeyed God's calling, and to have done what he thought was so little a thing at the time, but has been such a huge thing for all of us. So my parents are definitely gonna keep in touch with him. Before he came to the visitation, we heard of a passerby who had done those things, and initially my brother Nathan thought he might actually have been an angel, because he came, he helped, he prayed, and he left. It was really good for me to hear a few more details surrounding the accident, and I was really glad that David came and was willing to stay and talk with all of us.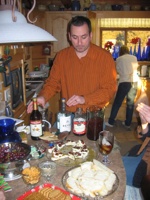 After the visitation, Aaron & Eve's next-door neighbors Jim & Janet hosted people for a few toasts to Aaron, and sharing a lot of memories and stories again. The main drink that most everyone was having was Aaron's most recent favorite drink, Tanqueray Rangpur gin & cranberry juice. I think I'll probably get some of that on hand, in addition to vodka and pink grapefruit juice with which to make a greyhound, which was his new favorite drink when I lived with Aaron & Eve back in the summer of 2005… They also hosted people after Aaron's burial on Thursday, and I stayed there pretty late again talking to some of his neighbors and closest friends, Jim, Russ & Rod. Rod told me that the poker game that Aaron brought me to when I visited there this summer had been organized by Aaron specifically because I was coming into town, even though Aaron made it seem to me like it had already long been scheduled (because he didn't ask me about it until I arrived, at which point it was time to head over to Jim's to start). So that was cool to find out, along with some other things.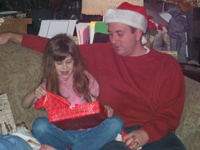 Aaron & Eve's whole neighborhood is amazingly close-knit, and Aaron was largely responsible for bringing that about. He really was the glue of the neighborhood, and several people on the street called Aaron their best friend (in addition to his pastor and other friends from college and high school also calling Aaron their best friend). Nearly everyone on the street has been so supportive of Eve and the kids through this whole situation, which has been really good to see, because they're definitely going to need it moving forward. Almost everyone on the street opened up their houses for guestrooms for my family and for Eve's family. The family that Ash & I stayed with hadn't really even met Aaron, and they even opened up their home for us. Also, while my parents were with Eve and her family making arrangements at the funeral home (I won't get into all the ways the funeral home demonstrated their stunning incompetence on my blog, though), all the neighbors came over and weeded and watered the garden, mowed the lawn, cleaned the garage and put everything away — they just took care of everything. It really is a cool neighborhood with great people that take care of each other, and I can only hope to be a part of one like it someday.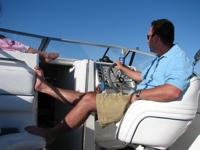 Aaron's funeral was on Thursday morning at the same church in Excelsior, just a few miles from where they lived in Minnetrista. The visitation that morning beforehand was really hard again for me, especially when the casket was closed right before the funeral. I was an honorary pallbearer for the funeral, along with my two surviving brothers, Nathan & Jake. It was a wonderful service (at least as wonderful as a funeral can be, I guess). It wasn't chock full of memories of Aaron, though, but that's not what Aaron would've wanted anyway. Rather, Pastor Tom implored people at the beginning of the service to write down some memories on sheets that were provided, or to email them at a later date, so they can be compiled into a book for Eve, Gabriella and Mathias. Then he said Aaron wouldn't have wanted a service focused on him, but one focused on Jesus. He was definitely right about that. My dad was the first to speak, and mostly read a couple big chunks from Ephesians (1:3-14 and 3:14-21), and then reading them again, replacing the pronouns with "Aaron." Beforehand, Dad asked me if I could finish reading what he'd prepared if he couldn't make it through. I said I'd try, but I didn't know if I'd be able to hold it together either. He made it through though. And so did my mom, who followed him with reading a trio of sonnets by D.A. Carson, based on John 14:6: "Jesus answered, 'I am the way, the truth, and the life. No one comes to the Father except through me.'" Then Cliff, the pastor/teaching elder at Word of Life Church in Taylors Falls (one of the house churches my family's been involved in for years, and which Aaron & Eve attended when they lived in Saint Croix Falls, WI several years ago), gave some reflections on providence, based on John 17:4, "I have brought You glory on earth by completing the work You gave me to do." Cliff's powerful Gospel message was then followed up by Tom, the pastor of Harvest Community Church in Winsted, where Aaron & Eve have attended for the last few years. Tom gave another very powerful Gospel message, entitled "When Death Is Gain," based on Philippians 1:21, "For to me to live is Christ, and to die is gain." Here's what Tom wrote on the back of the memorial folder for Aaron, which he expanded upon at the funeral:
"Aaron was truly a delight to be around. He was humorous, generous, and adventurous. He was faithful to his wife, loving to his children, loyal to his friends, and devoted to his church. Most people who knew Aaron would assume that a person this good would certainly go to heaven when he died.
Aaron would have strongly disagreed.
A shocking statement? Not if you knew Aaron. Aaron believed that although he could compare himself to other people, that wasn't the standard when it came to going to heaven. Rather, he knew he had to compare himself to the infinitely holy and perfectly loving God who created all things. When Aaron compared himself to God, he knew he had fallen incalculably short of deserving anything from God. Aaron knew that he deserved nothing but the punishment of eternal separation from God for all the sins he had committed (although by human standards they may have seemed small). The solution to this incredible problem Aaron found in the Bible: God, in his great love for us, sent His Son Jesus Christ to die a horrendous death on the cross. God accepted this death by His perfect Son Jesus as the payment for our sins. However, this payment is not universally applied to all people. Rather, God tells us that only those who love Jesus, having accepted His sacrifice on their behalf and entrusted their lives to Him, will be with Him forever in heaven.
This is the faith Aaron had — a faith in Jesus Christ and His sufficient work on the cross. This is the hope Aaron had — to be with Christ in heaven for all eternity. This is the comfort we have — to know Aaron has perfect delight forever with his Lord."
I don't think I could've said it better myself. Throughout the 90-minute funeral, the Gospel rang out so clearly, it was amazing. And that is
exactly
what Aaron would have wanted. I'd be surprised if God doesn't use Aaron's funeral to bring at least one person into a relationship with Him. I know I felt more and more comforted throughout the service as well.
The church provided a lunch for everyone after the funeral, and after that it was time to go to Fort Ridgely and Dale Cemetery, at a little rural Scandinavian Lutheran church between Franklin and Fairfax, MN, about an hour and a half southwest of the Twin Cities, for the interment. Many of my dad's relatives are buried there, including my Grandma & Grandpa Lee and my cousin Troy. And now my brother Aaron is buried there too… I've now been thinking a little bit about being buried there myself too, when I die someday.
On Friday, my parents took Ash & me on a day trip up to the North Shore of Lake Superior, including Gooseberry Falls State Park and some other places. It was beautiful as always, and definitely a treat since I hadn't been up there in maybe a decade. I absolutely love the North Shore and Lake Superior. It was good to spend a day with my parents going up there to do some sightseeing, and talking all along the long drive up and back.
Then on Saturday morning it was time to head out from Cumberland and start the long drive back to PA. But not before stopping at Wal-Mart in Rice Lake to get a leaky tire on the van fixed and the oil changed. That took awhile, but Nathan dropped by to hang out for awhile until the van was ready, so that was nice. Ash & I had hoped to make it to Valparaiso in time to catch at least a little bit of the Penn State-Oregon State game on TV with Alex, but by the time we got there it was in the 4th quarter and Penn State was blowing out Oregon State so badly that ABC had switched to a different game. (Originally my friend Mike M. from high school was gonna come out to Penn State to visit me and go to that game, so early in the week I was trying to work out a scenario in which that could still happen. But then Mike was able to change his flight to come out the weekend of the Indiana game in mid-November, which took off a ton of pressure from me, meaning I didn't have to worry about trying to make it back to PA by early Saturday. Thanks Mike.) So while the Penn State game wasn't on, Alex did some homework, I was messing with some photos on my laptop, and Ash was watching some of the other football that was on. After supper at B-Dubs, Alex & I stayed up pretty late again (past 2:30am, as seems to be our custom :-), talking for a few hours (a lot about Aaron and all the events of that week) and praying for awhile. Once again, it was such a blessing to be able to spend some quality time with my best friend, especially in the middle such a long trip after such a long and draining week.
After we said goodbye to Alex and left Valpo on Sunday morning, a wall of tiredness hit me, I think a combination of starting a third day of 8+ hours in a car and a week of exhaustion finally catching up with me. So I slept for two or three stretches on the way back. Needless to say, I was very glad when we finally got back to State College on Sunday evening, and I could be back in my own apartment and sleep on my own bed again.
This week is basically the first real chance I will have had to sit back and try to process everything that's gone on. All last week after I got back I was kept really busy with all sorts of planning and everything for the
Elijah
shows, which I'll talk about in a future post. I was so glad last night, after I got back from IM softball, to realize that it was only 8:30pm, and I had nothing that I had to do, nowhere that I had to be, and nobody that I had to see for the rest of the night (yep, that's my introvert side coming through). Writing this blog entry about Aaron has been good for me, I think, to help me process what happened, and to share a little bit with everyone about what Aaron was like.
Aaron teasing his dog Greta with shadow puppets back in August 2007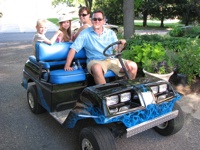 I'm really gonna miss him. Even though I only got to see him usually twice, maybe three times a year since I moved out to Pennsylvania, I always loved to hang out with him. Whether it was watching sports on TV, going to a sporting event (I've only been to one Vikings game and one Wild game, and both were with Aaron), taking a ride on his boat on Lake Minnetonka, or just talking about life, he was always so fun to be around. He had a quick wit, could see the humor in any situation, and was always able to turn it into a funny and memorable story. But more than that, he was a very strong and solid Christian, and that's really the core of who Aaron was. It doesn't remove the hurt of him being gone from earth, but it definitely gives a comfort to know he'll be in heaven with Jesus' presence for eternity, where there's no sin, pain or suffering. I really admire the fact that he'd get up a half hour or full hour early each morning to do his daily Bible reading/devotional. When he told me that this summer, and that he'd done 1-yr Bible reading plans a couple times, and was (if I recall correctly) doing a 6-month plan at the time, it really started to get me thinking that I should do a read-through-the-Bible plan as well, and certainly contributed to my asking Alex to do that with me for the coming year. There are many ways that Aaron had an impact on me, like he had a big impact on nearly everyone he knew. I'm definitely gonna treasure the last few times I hung out with him, last winter and this summer, especially. He's going to be sorely missed by all of us, but I for one am looking forward to seeing him again someday.
I'd also like to thank all of you for your prayers, messages, cards, calls, love and support since Aaron died. I really appreciate it.