Greetings from Gunbarrel! I'm finally in Colorado! I can hardly believe my move is over; this fall went by soooo quickly. I'm glad the move is over though, because last week and this week, I've spent about 4500 miles riding/driving in a car (4100 miles in my own car).
I drove home to Wisconsin for Thanksgiving, and brought with me a carload of stuff to leave there until Christmas/New Years. Then I drove back to PA after Thanksgiving, to pack up the rest of my stuff and tie up some loose ends on campus and whatnot. I got back to State College on Monday evening, and then on Wednesday morning I drove out again, so I was only back for about 40 hours.
Even with taking one carload of stuff to Wisconsin, I still had to leave some things behind last week. I put everything I possibly could into my car, but some things just wouldn't fit (bedding, pillows, laundry basket Vikings waste basket, tower fan, cooler, liquor, kitchen stuff/food, skis, winter boots, work boots, PSU lawn chairs). It really was packed to the gills, and weighed down pretty heavily. I honestly thought I'd be able to fit everything in, otherwise I would've taken some stuff to Goodwill. Oh well.
I packed some boxes in my backseat Tuesday night during a very brief pause in the heavy rain, but unfortunately I forgot to close the rear passenger door on my last trip of the night. I didn't discover that little detail until morning, and it'd been raining steadily all night and morning. The boxes and upholstery on my passenger side were soaked. ARGH. I had no choice but to pack more stuff in and soldier on, however, as there was no time to take stuff out and dry it.
By the time I had everything loaded into my car, the steady rain had switched to heavy wet snow, so at least I bid farewell to a snow-coated Pennsylvania, making it even prettier than usual (road conditions improved markedly once I reached I-80). So on Wednesday I drove about 10 hours (with only two stops) to the western suburbs of Chicago, where I spent the night with my friends Ryan & Sarah. On Thursday I drove another 10-11 hours from Chicago to a motel in Kearney, Nebraska (where I was introduced to the fast-food joys of Runza on Ryan's recommendation; apparently Runzas are a Nebraskan delicacy, haha). On Friday I drove the remaining 6 hours or so to Gunbarrel (northeast Colorado is even more desolate than southern Nebraska).
I went on a big shopping trip to Target and Safeway yesterday to replace all the stuff that I had to leave behind and stock my pantry. My wallet shed several tears, I think. I don't have any bedroom furniture yet though, so I haven't been able to unpack very much yet. I'm hoping to acquire some this week — I can hardly wait to finish unpacking and make my room feel like home.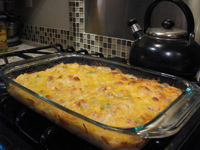 In the meantime, I figured the best way to feel at home was to cook something: some tex-mex chicken hotdish from my Minnesota cookbook. It was a good way to learn where everything is in the kitchen (and to discover in the middle of prep that there wasn't a can opener!). That just came out of the oven, so I'm going to dig in!
First day of work at NCAR tomorrow! I'll post some photos of the house in a post later this week, hopefully.