Oh man, what a weekend! It's been so fun and exhausting that I think I need to have another day or two to recover from it!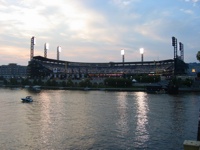 On Friday afternoon, right after Caren's thesis defense (congrats on passing!), Frame, Bob, Vic & I drove over to Pittsburgh to see the Pirates-Cubs baseball game. We missed the first part of the game though, partly because of PennDOT's incompetence; large stretches of Hwy 22 between Altoona and Pittsburgh were "under construction," yet most of the time the lane(s) that were coned off looked perfectly good, with nary a unionized PennDOT worker to be seen. There were a couple very short stretches that were a little torn up, but there was no reason to have six or seven 3-5-mile stretches of lane reductions.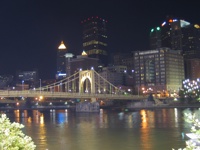 After a couple wrong turns by Frame in the city (we somehow wound up on Mount Washington), we finally made it to the stadium (taking the gorgeous walkway over the Roberto Clemente Bridge over the Allegheny River), only to find out that Ticketmaster had printed out the wrong tickets for Bob, for a game three weeks ago. Argh! So after being shuttled from ticket window to ticket window in search of a more senior person to make a decision,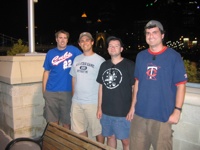 in the end the Pirates personnel said that it wasn't their screwup, so they couldn't do anything about it, meaning we had to buy new tickets. Bob's gonna complain mightily to Ticketmaster and try to recoup his money, that's for sure. What does a $5/ticket "convenience fee" get you from Ticketmaster? The wrong tickets. So once we got into the stadium and got some food, it was the end of the 3rd before we got to our seats. It was a beautiful night for a baseball game in the beautiful PNC Park, and the hometown Pirates beat the visiting Cubs 6-1, which gave Bob plenty of opportunity to exhibit his patented Cubs-fan pessimism, haha.
Part of why we went to the baseball game in Pittsburgh on Friday night is that we knew that State College was going to be an absolute zoo the night before the Notre Dame game. And sure enough it still was when we rolled back into town shortly before 2am. While we were sitting at the light on Atherton St at College Ave, it was amazing to see the swarms of people all over. And then we glanced down College, and noticed, somewhat in awe and surprise, that there was a rather long line of people waiting to get in to the Golden Wok (for those of you not from State College, it's a Chinese restaurant with a very small bar inside). We all started laughing, thinking that it's both sad and amazing that the town was so full and that people are so desperate to get a drink that they're waiting in line outside the Golden Wok at 1:50 in the morning.

As for gameday on Saturday, we met up with some geoscience grad students again, and got to the parking lot/field around 10:30. Shawn and the geosci guys brought along a deep fryer and a griddle, and we in meteo brought along Walter's grill, so we had just about any sort of way of preparing tailgate-quality food covered!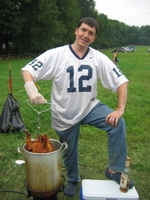 I'm probably leaving out a few things, but I know for sure that Shawn deep fried tater tots, onion rings, jalapeno poppers, Milky Way candy bars, two entire turkeys — it was awesome! Let me tell ya, the deep fried turkey was probably the juiciest, tastiest turkey I've ever had, or at least certainly right up there. And the deep fried candy bar pieces were great too, just missing maybe some powdered sugar and being on a stick (a la the Minnesota State Fair). The weather was pretty good too, though a bit on the humid side.

As for the game, it was pretty amazing in several respects. First of all, the fact that all the alumni and other fans actually heeded the declaration of the "Penn State White Out" (wouldn't wanna get sued, so apparently I can't call it just a "White Out," argh). The atmosphere was pretty electric, even before the game started.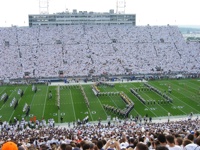 I don't think I've ever been to a game before when *everybody* in the whole stadium was in their seat before kickoff. I was, however, rather disappointed with the Penn State student section in their treatment of the Notre Dame marching band when they performed before the game. So much for the line from the Penn State Alma Mater song, "May no act of ours bring shame…"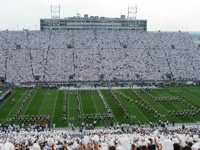 At any rate, it was *very* impressive to see 110,078 fans (the second largest crowd in Beaver Stadium history, second only to the Nebraska game back in 2002) in "The White House," as it was dubbed for the evening. And it was extremely loud, especially for the first series of the game when the Fighting Irish were on offense,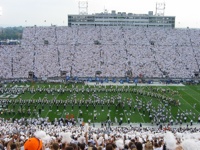 starting down at the end of the field with the Penn State student section. My friend Mike was watching the game on TV back in Wisconsin, and sent me a text message during those opening plays that said, "Good God is it loud there!" If you thought it was loud on TV, that's only a fraction of how loud it was actually being in the stadium!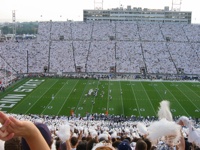 Notre Dame's 72-yard interception return for a touchdown in the 1st quarter quieted the crowd a little bit, until the Nittany Lions' Derrick Williams had an electrifying 78-yard punt return for a touchdown ("breaking the ankles" of the Irish's punk defensive back Tom Zbikowski *twice* on the play!)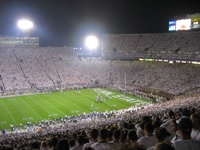 to tie the score at 7-7, sending "The White House" crowd into an absolute frenzy! The only other game in which the crowd might've been louder was back in 2005 when Ohio State paid a visit at night. Seriously, Beaver Stadium was absolutely rockin' and rollin'! The Nittany Lions defense was smothering all night (Notre Dame had *zero* total yards rushing in the game),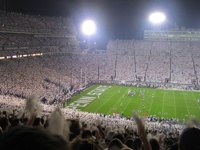 and once the offense got going (it took a little while…), it was a slow and steady beatdown, with Penn State rolling to a 31-10 victory! My voice was spent (still not entirely back to normal today), and I was completely exhausted from standing the whole game and all the walking and standing at the tailgate, but it was very worth it!
So with Penn State beating Notre Dame convincingly, and Michigan getting blown out at home by Oregon (everyone was cheerfully giving score updates to Frame, haha), both the Wolverines and the Fighting Irish, my two most-hated college football teams, both have now started out the year 0-2. I love it! Ironically, they play each other next week. I guess somebody's gotta win…
The first round of the AFL (Aussie rules football) playoffs were this weekend, and the Geelong Cats destroyed the Kangaroos 156-50. So now the Cats have a bye for the next round, before playing in the preliminary final in two weeks. They've definitely sent a message to the rest of the league though, reminding them why they're the #1 seed and why they had a 15-game winning streak and an 18-4 record during the season.