It's not every day that you get to have wedding cake on your birthday! But that's exactly the situation I found myself in two Saturdays ago, back on the 27th of September, which was my 25th birthday. A few of us Penn Staters made the trek from State College (me, Petters, Walter, Frame, Kerrie), Rochester (Caren, Shannon and her boyfriend Jerry), or northern Minnesota/North Dakota (Lindsay & Vic) over to Toledo, Ohio, on Friday the 26th because our friends Chris & Amber were getting married on the 27th. Penn Staters made up 10% of the wedding guests, as it turned out!
The wedding was pretty short and simple. Only 15-20 minutes long, actually! But when the pastor's the only one doing the readings (Genesis 2, Matthew 19, 1 Corinthians 13), it's a small wedding party (only a best man, maid of honor, and a junior bridesmaid & groomsman), there are no songs sung and no unity candle to light, it kinda keeps the length of the service down. 🙂 It was a good service though, and Amber's dress was beautiful as expected (and cream-colored instead of white, which looked really good). The ceremony was at a cute, cozy, little old Presbyterian church in suburban Toledo.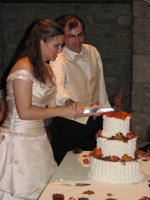 The reception was at a lodge amongst tall pines in a county park about 20 minutes outside Toledo. A pretty setting, for sure. We Penn Staters all got there pretty early so that we could finish doing all the set-up for the reception (Amber, Kerrie, Caren & Shannon had already done a bunch that morning too). It was a nice, simple reception too, with plenty of crafty autumnal elements and decorations that were very, very Amber (many of which were also made by her, no less).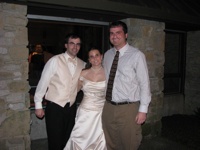 Boston Market did the catering (turkey, mashed potatoes, gravy, corn, cornbread, and, at Chris's request, macaroni & cheese), and we were all impressed. The reception hall got a bit toasty though, so after dinner a bunch of us went outside for most of the rest of the evening, and it definitely was a gorgeous early autumn evening, very pleasant. As a result, there wasn't as much dancing as some other weddings I've been at (and none by me), but I personally was fine with that. 🙂
I did catch Chris's toss of the garter though. A plot was definitely afoot, though, because he made sure to toss it right at me (and everyone else made sure that I was on one end of the line), haha. So while this supposedly means that I'm the next guy there to get married, I somehow doubt that'll be happening anytime soon! 😉
When the reception was winding down, we all went back to the hotel in Toledo, watched the last part of the second quarter of the Penn State game on TV in our room, and then at halftime we all walked over to Buffalo Wild Wings for the second half of the game. It was a fun end to a fun day, especially since Penn State beat Illinois 38-24. It still would've been fun to experience the White House atmosphere of that game for my birthday (all 109,000+ fans wore white, save the 1-2,000 orange-clad Illini fans), but there never was a question that I'd choose the wedding over the game. It was great to see friends again that had moved away, and to be a part of Chris & Amber's day! It'll definitely be easy for me to remember their anniversary, that's for sure!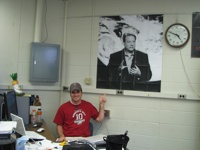 There were other birthday shenanigans that went down though. When I got to Walker Building on Friday morning (the day before my birthday), I discovered a giant poster of none other than Algore behind my desk. Lovely. Just who I want to be staring over my shoulder while I work… Walter had (as usual for pranks that get pulled on me) loaned Kerrie his keys to our office, and then she, Tracy & Amanda went to town putting that up. I do plan on taking Algore down,
lest his hot air or liberal agenda or bad science begin to affect me, but I've so far been too lazy to do it! And then when I got home from Toledo, I discovered that Tracy & Amanda had also been let into my bedroom by Tim, because in the place of one of my Lord of the Rings posters was a ginormous blown-up GOES satellite photo of Hurricane Ivan from 2004, when Ivan was a monster in the Gulf of Mexico. Seriously, it's huge, it takes up most of my wall. Unlike Algore though, Ivan will stay up for awhile. I'm a bit more fond of a blustery storm than a blustery socialist. 😛